Treatment Options
Treatment of back pain and neck pain / problems: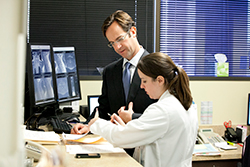 Diagnosis and assessment of back pan and neck pain
Artificial disc replacement for the neck, Mobi-C disc, etc.
Artificial disc replacement related to the lumbar spine
Treatment of failed back surgery syndrome and those with previous back surgery
Treatment of degenerative disc disease
Treatment for spinal stenosis (narrowing of the spinal canal)
Surgery: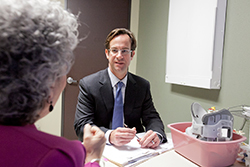 Minimally invasive spinal surgery
Surgery for spinal instability and spondylolisthesis
Spine tumor surgery
Surgery for herniated discs in the neck, low back and thoracic area
Endoscopic spinal surgery
Spinal deformity surgery
About laser spine surgery:
From time to time our spine specialists are asked by other physicians and patients about TV ads they see related to "laser spine surgery". Some patients ask if they are a candidate for laser surgery for back and neck pain and if this is better than traditional spine surgery. The gold standard in spine surgery today is "minimally invasive spine surgery" which enables the spine surgeon to operate through tubular retractors. This reduces the length of the incision from 3 inches to 1 inch. This lessens time in the hospital, reduces blood loss and the need for donated blood, reduces disruption to muscles and ligaments and enables the spine surgery patient to return to activity faster and with less discomfort.
We are a huge advocate of new technology where it shows benefit to the patient.
However, according to the best sources on medical research, including the North American Spine Society and the Cochrane Report, laser spine surgery relates to the use of a laser as a cutting device and at this time there is no clinical benefit shown from laser spine surgery. This may change in the future as new technology is developed. But at this point, in our opinion, the use of a laser is intended more as a marketing approach to attract patients to a surgery that is not really different from a traditional spine surgery.
In summary, most clinical research maintains there is no clinical benefit to laser spine surgery over minimally invasive spine surgery — at this time. Consequently, we don't do laser spine surgery, nor do we use lasers during spine surgery for advertising purposes.