Treatment Options
Treatment of back pain and neck pain / problems: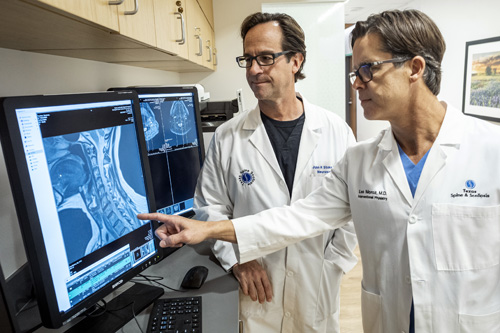 Diagnosis and assessment of back pan and neck pain
Artificial disc replacement for the neck, Mobi-C disc, etc.
Artificial disc replacement related to the lumbar spine
Treatment of failed back surgery syndrome and those with previous back surgery
Treatment of degenerative disc disease
Treatment for spinal stenosis (narrowing of the spinal canal)
Surgery:
Minimally invasive spinal surgery
Surgery for spinal instability and spondylolisthesis
Spine tumor surgery
Surgery for herniated discs in the neck, low back and thoracic area
Endoscopic spinal surgery
Spinal deformity surgery
Artificial Disc Replacement surgery
It's estimated that over 1 million people in the United States have neck pain related to cervical disc herniations. Consequently, each year in the United States about 266,000 neck surgeries are performed to relieve symptoms of weakness, numbness or radiating pain into an arm or hand.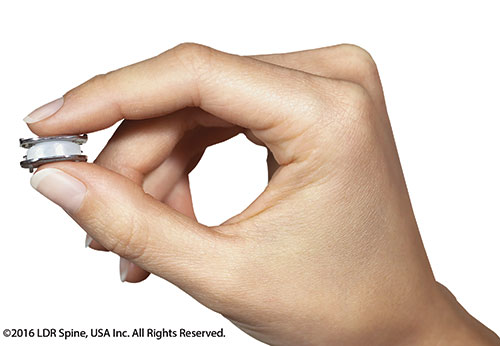 It's estimated that more than 10% of these neck surgeries involved the use of an artificial disc, with the percent growing rapidly each year. That's because more insurance companies are recognizing the value of artificial disc surgery over traditional fusion surgery which locks two vertebrae together, causing less rotation of the neck and future problems with other disc levels. Research from the North American Spine Society has documented that the preferred treatment for disc herniations in the neck is now artificial disc replacement.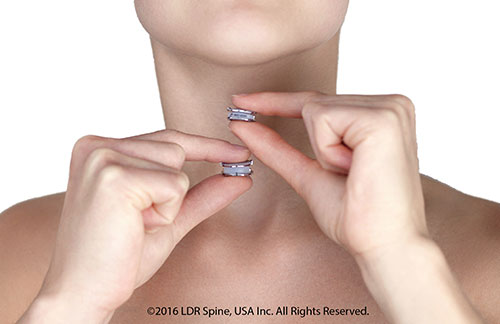 Dr. John Stokes uses the Mobi-C artificial disc to treat herniated discs in the neck. Mobi-C was the first disc approved by the FDA for two levels in the neck. Accordingly over the years, the Mobi-C disc is one of the most widely used cervical discs in the world. According to the manufacturer, Mobi-C has been implanted more than 17,000 times across 25 countries. According to one study, patients receiving the Mobi-C disc returned to work and activity 3 weeks earlier than those with traditional fusion surgery. Mobi-C contains a polyethylene core that slides and rotates inside the disc for self-adjustment to the cervical spine movements. This means that Mobi-C can react to the normal motion in the cervical spine. Mobi-C provides bone sparing fixation without chisel cuts into the small vertebral bodies of the cervical spine, making it a safer option when used at two levels.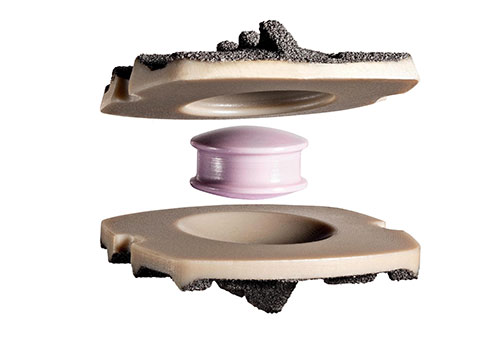 Artificial disc replacement in the low back:
Currently, Dr. Stokes does not do LUMBAR disc replacements because the artificial disc technology for the low back is evolving and changing rapidly. Also the lumbar discs have more load placed on the disc from the bodyweight of the patient. 
Dr. John Stokes is a fellowship-trained neurological spine surgeon and is co-chief of Texas Spine and Scoliosis, which is a regional spine center of excellence based in Austin that is referred complex back and neck patients, spinal tumor patients and scoliosis patients from across Texas, Oklahoma, Louisiana and Arkansas. The regional spine center is referred international patients from cities across Mexico — including Mexico City, Monterrey, Hermosillo and Merida. Patients come to the spine center for second opinions for minimally invasive spine surgery; spinal tumor and artificial disc replacement. Texas Spine and Scoliosis has offices in Central Austin; Round Rock/Georgetown; Burnet/Marble Falls; and Kyle, Texas, which is just north of San Antonio.